Parking in
Ybor City
is available in the Centro Ybor and Palm Avenue Parking Garage, various surface lots, and on-street sites. Two Hour Free Parking is available throughout Ybor City. There is a $1.00 charge at the Centro Ybor and Palm Avenue Garages for the first three hours, with the exception of Thursday, Friday and Saturday nights. On these nights a flat fee will be charged upon exit to patrons entering the garage after 10:00 P.M. and exiting before 5:00 A.M. as follows:


Ybor City's on-street parking meters have been removed and replaced with signs indicating a two hour limitation. The prohibition of employee parking will still be in effect. This new plan is based on the hope that more people will be encouraged to visit Ybor City.

Refer to our Ybor City Map to find convenient parking on your visit. Two categories of parking are identified that are accessible to the public:
| | |
| --- | --- |
| | 24-Hour - available and accessible 24 hours a day, 7 days a week. Rates vary, but are generally hourly or for a fixed per day fee. |
| | Nights, Weekends & Events Only - these spaces remain open after normal business hours (5-6 pm) on weekdays, and are generally available on weekends (some exclude Sundays). Rates vary, but are generally hourly for a fixed per day fee or for a fixed, short-term fee. Be sure to note the closing hours. |
| | Valet Parking - Is now available at Centro Ybor located on 9th Ave at 16th street between Muvico & Tampa Digital Studios. Get parking validation with a purchase of $25 or more at any participating Centro Ybor merchant (or a movie Ticket) and receive valet parking for only $3 seven days a week. |
| | Event Parking - City garages and many lots have special rates and hours for large event parking. Check the event websites or call the event information lines to learn about parking details. |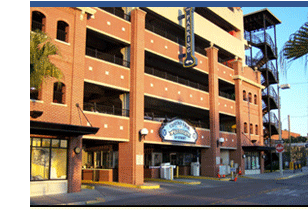 Need directions in Ybor?
Ybor City Ambassadors are friendly guides that offer directions, tours, and parking choices to the Ybor community. To contact Ybor City's Ambassadors, call them at
813-274-7936.