FEB - JUL AMERICAN FLAGS: THE STARS & STRIPES IN AMERICAN HISTORY & CULTURE
An inspiring exhibition of textiles, artwork, and related memorabilia exploring the history and context of the American flag. Tampa Bay History Center. 813-228-0097 TampaBayHistoryCenter.org
MAR 1 - JUL 22 HAVING A BALL
Behold folk artist George Sosnak's striking portraits from America's pastime. Baseballs decorated with the images and arcane statistics so dear to fans of the game. Tampa Museum of Art. Tampa Museum of Art. 813-274-8130 TampaMuseum.org
MAR 9 - JUL 22 INSPIRED BY NATURE: VASES, BIRDS, & FLOWERS
This exhibition includes more than two dozen artworks from a variety of media and time periods, in two and three dimensions illustrating the beauty and vitality inspired in the flora, fauna, and other forms of the natural world. Tampa Museum of Art. 813-274-8130 TampaMuseum.org
MAR 23 - DEC 23 IMPERIAL DESIGNS: FROM THE HAPSBURG'S HEREND TO THE ROMANOV'S FABERGE
An exquisite collection of porcelains and decorative arts harkening back to the grand dynasties of 19th Century Europe and Asia. Henry B Plant Museum. 6-10pm 813-254-1891 PlantMuseum.com
APR 1 - JUN 30 ANONYMOUS WOMEN: CAMOUFLAGE AND CALAMITY
Patty Carroll has been known for her use of highly intense, saturated color photographs since the 1970's. This exhibition consists of studio installations made for the camera, addressing women and their complicated relationships with domesticity. By camouflaging the figure in drapery or domestic objects, creating a dark and humorous game of hide-and-seek. Florida Museum of Photographic Arts. 813-221-2222 FMOPA.org
APR 1 - JUN 30 ANDREA MODICA: MINOR LEAGUE AND BEST FRIENDS
A collection of black-and-white portraits of famous Yankees baseball players from their minor-league days, which also includes portraits of best friends. Each image is a careful study of masculinity and teamwork. Florida Museum of Photographic Arts. 813-221-2222 FMOPA.org
May 1 - JUN 29 GLEN DEPASSE: BEYOND THE BOUNDARIES
In his first Solo Exhibition, the 2017 Gasparilla Fine Arts Festival winner of The Emerging Artist Award will exhibit his large-scale, mixed media, abstract photography. TECO Public Art Gallery. 813-767-1600.
MAY 3 - SEP 30 THE ART OF LARRY BELL AND JESÚS RAFAEL SOTO
Two of the 20th century's most innovative artists exploring light and space. Since the 1960s, Bell and Soto havTwo of the pushed the boundaries of traditional painting and sculpture with new materials and forms exploring Cubes and Structures; Vapor and Vibration; and Light and Transparency. Tampa Museum of Art. 813-274-8130 TampaMuseum.org
JUN 1- 18 BLITHE SPIRIT
Even death can't keep a good woman down. Charles Condomine, a mediocre novelist, summons a medium to his home to study "the techniques" of spiritualists for his new book. Along with Ruth, his second wife, and Dr. and Mrs. Bradman, he participates in a séance conducted by Madame Arcati, his chosen medium. Madame Arcati supplies Charles with more than he bargained for. She produces a "protoplasmic manifestation" in the form of Elvira, Charles's deceased first wife whom only he can see and hear. With farce and wit unleashed, playwright Noel Coward presents us with some of his best comic characters in a situation full of spirits and satire. Stageworks Theatre. 8pm-10pm 813-374-2416 StageworksTheatre.org
JUN 3 - SEP 18 SUMMER MOVIE CLASSIC SERIES
A summer tradition...classic movies are shown each Sunday from June to September including Top Gun, Blade Runner, To Kill a Mocking Bird, Dr Strangelove, Sing Along with Mary Poppins, Blazing Saddles, and not to break with tradition...Gone With The Wind, Wizard of OZ and Cassablanca. Come early and hear the Mighty Wurlitzer theatre organ play 20 minutes before show time! Tampa Theatre. 3pm 813-274-8981 3pm. TampaTheatre.org
JUN 14 FLAG DAY AT THE HISTORY CENTER
Enjoy special guided tours of "American Flags: The Stars and Stripes in American History and Culture," and demonstrations on flag folding and flag protocol. Tampa Bay History Center. 10am - 5pm 813-228-0097 TampaBayHistoryCenter.org
JUN 14 - 19 WON'T YOU BE MY NEIGHBOR?
From Academy Award-winning filmmaker Morgan Neville, Won't You Be My Neighbor? takes an intimate look at a man we all feel like we already know. This emotional and moving film takes us beyond the zip-up cardigans and the Land of Make-Believe and into the heart of a creative genius who inspired generations of children with compassion and limitless imagination. Tampa Theatre. 813-274-8981. TampaTheatre.org
JUN 15 - JUL 8 DANCING AT LUGHNASA
The story of five unmarried sisters eking out their lives in a small village in Ireland in 1936. We meet them at the time of the festival of Lughnasa, which celebrates the pagan god of the harvest with drunken revelry and dancing. Their spare existence is interrupted by brief, colorful bursts of music from the radio, their only link to the romance and hope of the world at large. Straz Center. 813-229-7827 StrazCenter.org
JUN 15 - 17 THE ILLUSIONISTS™ - LIVE FROM BROADWAY™
This mind blowing spectacular showcases the jaw dropping talents of five of the most incredible Illusionists on earth. Shattering box office records across the globe and dazzles audiences of all ages with a powerful mix of the most outrageous and astonishing acts ever to be seen on stage. Straz Center. 8-10pm 813-229-7827 StrazCenter.org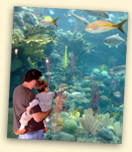 JUN 16-17 FATHER'S DAY WEEKEND AT THE AQUARIUM
Take a stroll with dad through the Aquarium's many exhibits including the Dragons Down Under exhibit and learn how seahorses are the Mr. Moms of the sea! Father's enjoy Free Admission with purchase of a full price paid admission. The Florida Aquarium. 9:30am-5pm. 813-273-4000 FLAquarium.org
JUN 22 GROWN UP NIGHT
Grown Ups take over the Museum to climb, jump, and build in the exhibits! Play like a kid again with parachutes, slinkies, and hula hoops. Free snacks and beer until it's gone... This event is 21 and up.Glazer Children's Museum. 813-443-3861 GlazerMuseum.org
JUN 23 THE GOT JOKES? IMPROV EXPERIENCE
This signature improv show brings together a diverse roster of all-stars to create an interactive experience that leaves the audience wanting to join the action. Stageworks Theatre. 8pm-10pm 813-374-2416. StageworksTheatre.org
JUN 24 TAMPA BAY BRIDAL SHOW
Something old, something new, so many details...what to do? Make it easy on yourself! Spend the afternoon with the area's bridal experts! Look for great fashions, tips and wedding advice plus door prizes, giveaways and more. Amelie Arena. Noon-4pm 727-893-8523.
JUN 27 - JUL 1 MENOPAUSE THE MUSICAL
A "grassroots" movement of women who deal with life adjustments after 40 by embracing each other and the road ahead. Inspired by a hot flash and a bottle of wine, Menopause The Musical was created as a celebration of women who find themselves at any stage of "The Change." The laughter-filled 90-minute production gets audience members out of their seats and singing along to parodies from classic pop songs of the '60s, '70s and '80s. Straz Center. 813-229-7827 StrazCenter.org
JUN 29- JUL 1 AAU NATIONAL GYMNASTIC CHAMPIONSHIP
Tampa Parks and Recreation Dept is hosting the 2018 AAU National Gymnastics Championship. Youth gymnastics competition, ages 5-18 years old will be coming from around the country. Tampa Convention Center. 8am-6pm 813-390-6631.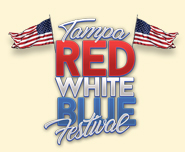 JUL 4 TAMPA RED WHITE & BLUE FEST 2018
Everyone's favorite free family fun Independence Day Fest in the park, feature live Jazz, Country, and Blues Music as well as Made In America Art and Craft, Food Vendors from BBQ to New Orleans and Southern Fried Dishes, Family Friendly Competitions including a festival version of Family Feud, Best Dressed Contest for big prize giveaways, and appearances by Uncle Sam on Stilts! Cotanchobee Fort Brooke Park. 2-7pm CityFestivals.org

JUL 4 THE 4TH OF JULY AT THE HISTORY CENTER
Enjoy $5 admission for all visitors and extended hours until 7pm. Costumed historical re-enactors will fill the museums galleries, depicting soldiers and civilians from the 1830s through the 1940s. Stay and watch fireworks at 9pm outside along the Tampa Riverwalk. Tampa Bay History Center. Tampa Bay History Center. 813-228-0097 TampaBayHistoryCenter.org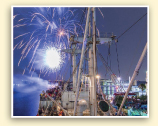 JUL 4 FAMILY FUNFEST & FIREWORKS
Celebrate our independence aboard the WWII Steamship SS American Victory. Enjoy the best view of the fireworks at 9pm, plus beer, wine, food and music. There will also be lots of family fun, including face painting and arts and crafts. American Victory Ship. 6:30-9:30pm. 813-228-8766. AmericanVictory.org
JUL 4 LIGHT UP TAMPA BAY
Downtown Tampa July 4th Fireworks Celebration is at 9pm at the Tampa Convention Center basin. Viewable areas include The Tampa Convention Center, The Tampa Riverwalk, The Sail & Jackson's TheTampaRiverwalk.com
JUL 5-8 RODGERS + HAMMERSTEIN'S CINDERELLA
The Tony Award®-winning Broadway musical delights audiences with its contemporary take on the classic tale. This lush production features an incredible orchestra, jaw-dropping transformations and all the moments you love - the pumpkin, the glass slipper, the masked ball and more - plus some surprising new twists! Be transported back to your childhood as you rediscover some of Rodgers + Hammerstein's most beloved songs, including "In My Own little Corner," "Impossible/It's Possible" and "Ten Minutes Ago," in this hilarious and romantic Broadway experience for anyone who's ever has a wish, a dream...or a really great pair of shoes. Straz Center. 813-229-7827 StrazCenter.org
JUL 13-14 GUARDIANCON
Florida's premier gaming event that seeks to bring broadcasters, artists, editors and other industry personnel together for two days to celebrate all the good gaming has, can and will do. With educational panels, live-streamed gaming exhibitions, industry vendors and so much more. We are a proud Partnering to raise money for St Jude Children's Research Hospital. Tampa Convention Center. GuardianCon.com
JUL 19-22 METROCON

Florida's best anime convention boasts a number of exciting stage shows, unique vendors, exciting panelists, and interactive events throughout the weekend, including the world famous Anime Human Chess Match, where characters from your favorite anime and video games will battle it out for the fate of the world! Tampa Convention Center. 10am-7pm MetroConventions.com
JUL 21 SUN, SWIMSUITS & SUDS PUB CRAWL
Come get wet and wild in Ybor City! This pub crawl turns the local patios in Ybor City into splash zones with water blasters, sprinklers and so much fun! Food & beverage specials will be offered at all establishments involved and you will get one free drink at check in! Ybor City. 2pm-6pm Ybor.org
JUL 21 BEERFEST 2018: HOP GUN
If you feel the need...the need for mead, join us at Tampa's majestic movie palace for an evening of craft beers and local brewers plus snacks and samples from some of Tampa's top independent restaurants. Guests are invited don their beer goggles and dress as their favorite Top Gun character. Must be 21 or older. Tampa Theatre. 813-274-8286 TampaTheatre.org
JUL 31 WWE SMACKDOWN LIVE
What drama will unfold with the largest WWE Superstars including WWE Champion AJ Styles vs. Shinsuke Nakamura, Daniel Bryan, United States Champion Jeff Hardy, Randy Orton, Samoa Joe, Charlotte, Becky Lynch, Smackdown Women's Champion Carmella, Asuka, The Miz, Big Cass and many more! Amelie Arena. 7:45pm 813-254-1891. AmalieArena.com
AUG 4 TEACHER APPRECIATION DAY
Tampa Bay area teachers and the public are invited to honor their dedication to educating our youth, with Free admission for teachers and their families with their school ID. Henry B Plant Museum. 10am-5pm. 813-254-1891. PlantMuseum.com
AUG 3-5 TAMPA BAY COMIC CON
Florida's premiere family-friendly comic book convention brings comic books, magazines, toys, games, anime, manga, cosplay, artwork and more. Along with the roster of guest creators and celebrities. Tampa Convention Center. 813-274-8511 TampaBayComicCon.com
AUG 8-9 DIGITAL SUMMIT TAMPA
Join an all-star lineup, speaker brands include Coca-Cola, MGM Resorts, Evernote, The Economist and more! Immerse yourself in the latest tips, strategies, and best practices on Content, Social, UX & Design, Email, Mobile, Video, SEO, and more. Over 45 sessions and speakers featuring the latest digital strategies, tactics and best practices. Tampa Convention Center. 8:30AM-6:30PM Tampa.DigitalSummit.com
AUG 25 MONSTER JAM TRIPLE THREAT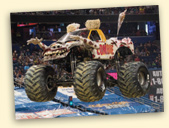 More trucks, more racing, more freestyle, more donuts, more wheelies, more action! Each event tests the versatility of the athletes as they go head-to-head in seven different competitions driving three different vehicles - Monster Jam trucks, Monster Jam Speedsters and Monster Jam ATVs. These athletes battle for points in challenging Racing and Freestyle events that push themselves and their machines to the limit. The point leader will receive an automatic bid to the prestigious Monster Jam World Finals to compete for the title of World Champion. Amelie Arena. 1pm 813-301-6500. AmalieArena.com
AUG 25 TAMPA HOME & GARDEN SHOW
Everything for in and around your home. Kitchens, baths, gardens, pools & spas, security, windows & so much more! Tampa Convention Center. 877-730-7469 TampaHomeShow.com
AUG 3 - SEP 3 TAMPA SALSA & BACHATA FESTIVAL 2018
A celebration of Latin culture with the top dance artists in the world in both Salsa & Bachata performing and teaching. Live Music from internationally recognized artist and some of the best tropical music DJs from around the world. Hilton Tampa Downtown. TampaSalsaBachata.com
SEP 1 TAMPA BAY STRENGTH AND FITNESS EXPO
The bay area's premier, multi-sport expo featuring Florida and the southeast region's strongest and most fit athletes. This family friendly event features CrossFit, Olympic Weightlifting, Strongman, Powerlifting, Highland Games, and more! With plenty of vendors, music, food, adult beverages, and an all around great time. Tampa Convention Center. 8am-5pm 813-540-2564 TBFitExpo.com
SEP 1 SUMMER OF RUM FESTIVAL
A celebration of some of the finest rum in the world. Kicking off with a Rum Run 4.5k. Then a full day of live music featuring Sugar Ray, dancing, a large selection of food, and of course a multitude of Rums to suit your fancy! Curtis Hixon Park. 12-11pm SummerofRumFest.com
SEP 7-9 PROGRESSIVE TAMPA BOAT SHOW
Tampa's largest and longest-running boat show is the best place to see and buy boats, gear and accessories! From fishing to cruising to family fun there are boats for every lifestyle. Tampa Convention Center. 813-274-8511 TampaBoatShow.com
SEP 18-23 CHICAGO
The triumphant hit musical and recipient of six Tony Awards®, two Olivier Awards, a Grammy®, now the #1 longest-running American musical in Broadway history. CHICAGO has everything that makes Broadway great: a universal tale of fame, fortune and all that jazz; one show-stopping song after another; and the most astonishing dancing you've ever seen. Straz Center. 813-229-7827 StrazCenter.org